This post was originally published on this site
Veeze, an All-Star off the bench
The enigmatic Detroit rapper is a lifelong student of the game. With the release of his debut album Ganger, he's ready to put you on some.
Scattered across Veeze's bare essentials-stocked kitchen are a number of whiteboards placed in strategic locations filled with hastily jotted career-related memos, vague inspirational quotes written in fading marker, and chipped stickers. On one counter rests a medium-sized board with a 60-day plan for the Detroit rapper's elusive album Ganger, which details the music videos they've shot, a note to drop one every two weeks, and reminders about upcoming media opportunities. Magnetically stuck to some prime bachelor pad real estate — the refrigerator door — is a notebook-sized board with a diagram illustrating the connection between money, relationships, and influence. Written at the top: "Make this run count!!!!"
For the better part of a year now, he's lived in a quiet suburb about 30 minutes outside of Atlanta, a move he says was to get away from "all things tied to streets and crime" to focus on music. He doesn't have much attachment to the city ("I just be working now, it ain't the same as living in Detroit"), but for now, this is where the 29-year-old rapper can catch his breath and refocus in between trips to Los Angeles, New York, and Detroit.
The interior of Veeze's house resembles the prototypical Airbnb, down to the dark grey wood laminate floors and beige-white walls. There are about a dozen meticulously cared-for rugs spread around the first floor of his house, including a custom-made one of the Monopoly Man-styled Veeze from the cover art of his recent single "GOMD." Also lying around: an assortment of blunt-filled ashtrays, a bunch of skateboard decks, a Supreme lawn chair, a few more blunt-filled rolling trays, and a Teenage Mutant Ninja Turtles: Turtles in Time arcade cabinet in pristine condition. It feels like a trendy consignment store and a house all at once. Upstairs, you'll find an unframed one-of-one painting of an inebriated Krusty the Clown rocking a Chanel hoodie. Judging by the unpacked suitcases lying around — and the plastic wrap still peeling off of the arcade cab's buttons — Veeze hasn't had time for rest lately.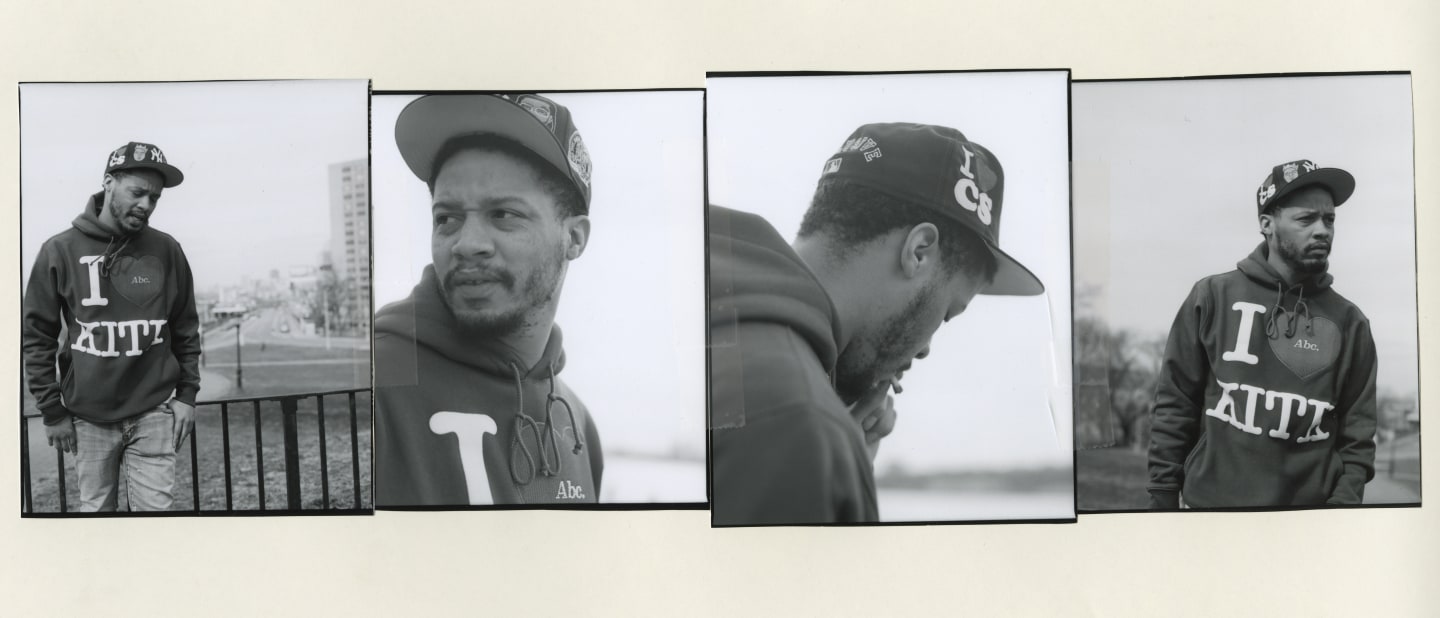 During the summer of 2019, Veeze emerged as a new player in Detroit's then-still-ascending rap scene with an intimidating croak for a voice. Raised on West Seven Mile Road, Veeze grew up listening to homegrown rap from groups like the StreetLord'z, Doughboyz Cashout, and Team Eastside. "Same people you used to be a fan of end up being a fan of you, that's the craziest shit," he says, letting a bit of awe leak into his voice. Local legends (and Team Eastside alum) Peezy, GT, and Babyface Ray showed him that it was possible to make money off of music. Ray even paid for Veeze's first video, and after seeing how "Rusty" took off locally, he decided to take rap seriously. At the time, Veeze's laid-back flow resembled Ray's, but his writing carried a disjointed quality that was impulsive and unsettling.
He offered new variations on the brash conversational style of Doughboyz Cashout and Team Eastside on tracks like the blunt and inflamed "Itself" and "Heart Insurance." In videos for those songs, he crept around with a patchy beard and grim scowl only softened by his perpetually sleepy eyes. That initial run of songs — undoubtedly one of the most memorable debuts of the past half-decade — was simultaneously hilarious and brooding; non-sequitur punchlines, Instagram caption-worthy flexes, and searing disses stacked on top of each other like dominos.
"[Rap's] a sport. It got rules in it… You're not going to play if you don't know the rules. You ain't even going to make no roster."
His debut mixtape Navy Wavy arrived later that year, delivering on the promise of his first singles with writing that uncovered an endless Rolodex of references and a grisly sense of humor. "You know every story got two sides, nigga / I got puff balls on the AR like Rah Digga," he snarled on "Wilt." What he lacked in songwriting, he made up for tenfold with sharp, tightly-written verses. He dropped "Law N Order" the following year, a blistering song sampling the theme from the ubiquitous legal drama; it blew up so fast that it seemed like he was just one more song away from breaking through the regional glass ceiling. Since then, he's irregularly dropped music of his own, explaining that he wanted to avoid oversaturating himself and avoid putting out what he considered "weak shit."
Those looking hard enough could make a solid EP out of his show-stealing features on songs from Pooh Shiesty ("Making A Mess"), Lil Baby ("U-Digg"), and Lil Yachty ("Fight Night Round 3," "Run Down"). The slow drip of new Veeze music since 2019 has made him a steady target for leakers — online, his songs are as coveted as imported snacks and sodas. Veeze says he's not very concerned about them: "No songs that I ever cared about got leaked. Every song that people may consider a leak, I know that it's out."
With his profile growing back at home, Veeze noticed that people began treating him like he had superpowers, and could maybe put them on too. In an attempt to avoid awkward conversations with family and friends, he started pretending to be asleep to duck phone calls and avoided going outside. "Once people see you in that light… It don't matter if they knew you since you were born. It all change, it all get wiped away," he soberly acknowledges. "People be crazy. Friends you knew for life, even your own family. People basing what they do in they life off of your opinion. And it just be like, 'Damn, all this because I do music?'"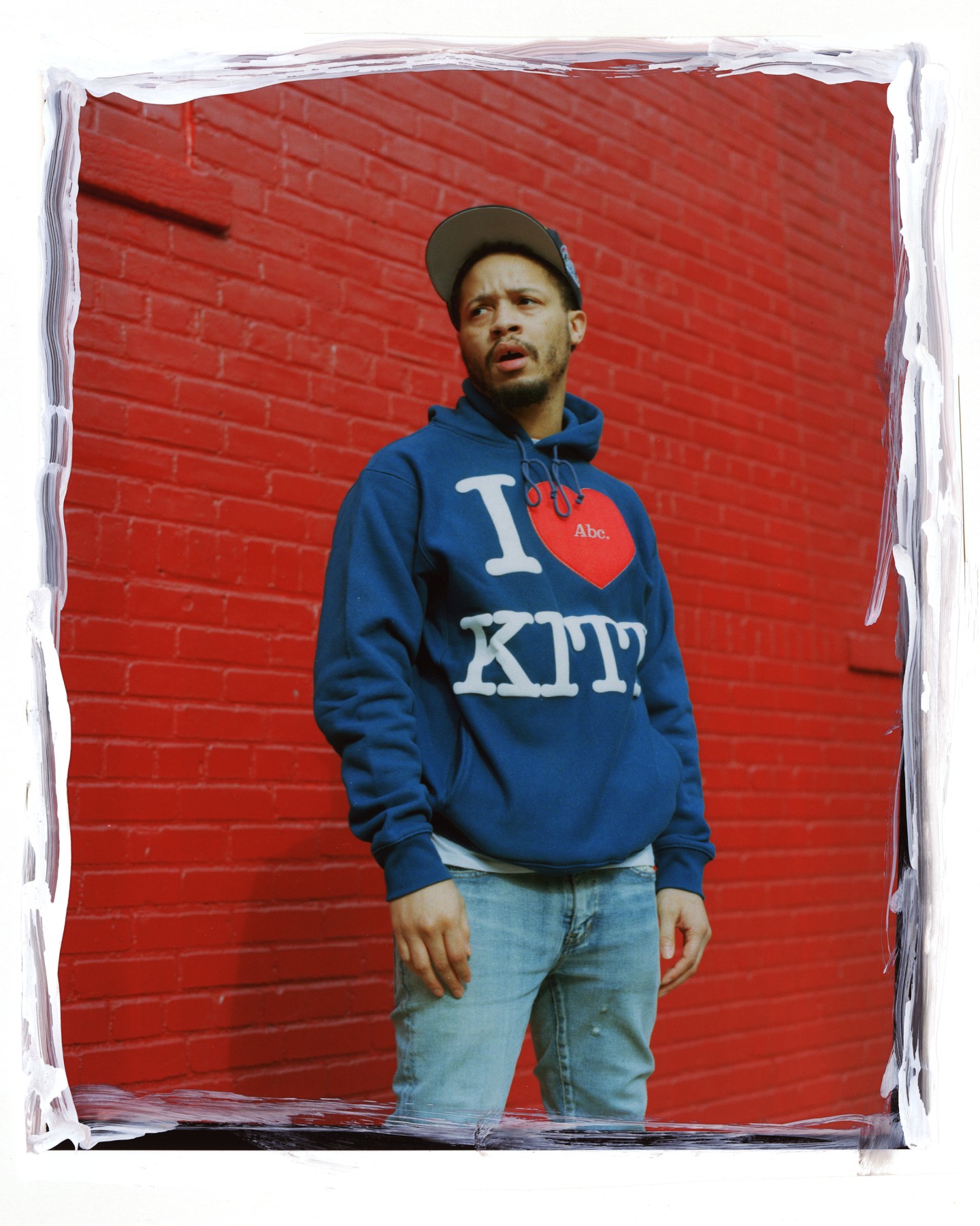 On the ride to Veeze's house that afternoon, leaks seemed to be the only thing anyone wanted to discuss. Jimmy Whisperz is used to handling small fires as they come up — a videographer by day, Veeze's day-to-day manager by night and day, he's an amicable hustler who's as deeply entrenched in recent Detroit rap history as he is a reliable source of help for Veeze, who tossed Jimmy his booking phone after building a relationship through videos. But on this sticky mid-June afternoon, it seemed like he was trying to get a handle on the lunch rush at an understaffed restaurant.
Sam, one of Veeze's publicists, was calling about a listening event with Spotify in New York that may or may not happen (spoiler: it doesn't). He's also worried about Veeze's upcoming announcement — wondering how and, more importantly, when Veeze would spread the news that Ganger would drop at the end of June. They've worked to keep details tightly wrapped, but in the days leading up to the announcement, a pair of tracks from Ganger — "Tony Hawk" and Lil Yachty-featuring "Boat Interlude" — as well as the album's tracklist, leaked online, causing a minor panic. Jimmy reassures the publicist that Veeze knows about the plans to announce and that the news would be delivered the way he knows best: without warning.
You get used to the phone ringing while riding around with Jimmy. If we're lucky, thirty uninterrupted seconds of the unreleased Veeze song he's trying to show me will play before someone else calls. Next caller: Snake, Veeze's other manager, who is noticeably calmer about the leak situation. Neither Snake nor Jimmy is sure of the source, but there's not much else to say. Takedowns were issued on the infringing uploads, and a content block was put in place to prevent any other online slip-ups until the album's release. Snake views these extra precautions as a good omen — that after all of the delays, rumors, and leaks, an insatiable demand for any and all new Veeze music still exists, and it has them working overtime to outmaneuver crafty leakers at the 11th hour.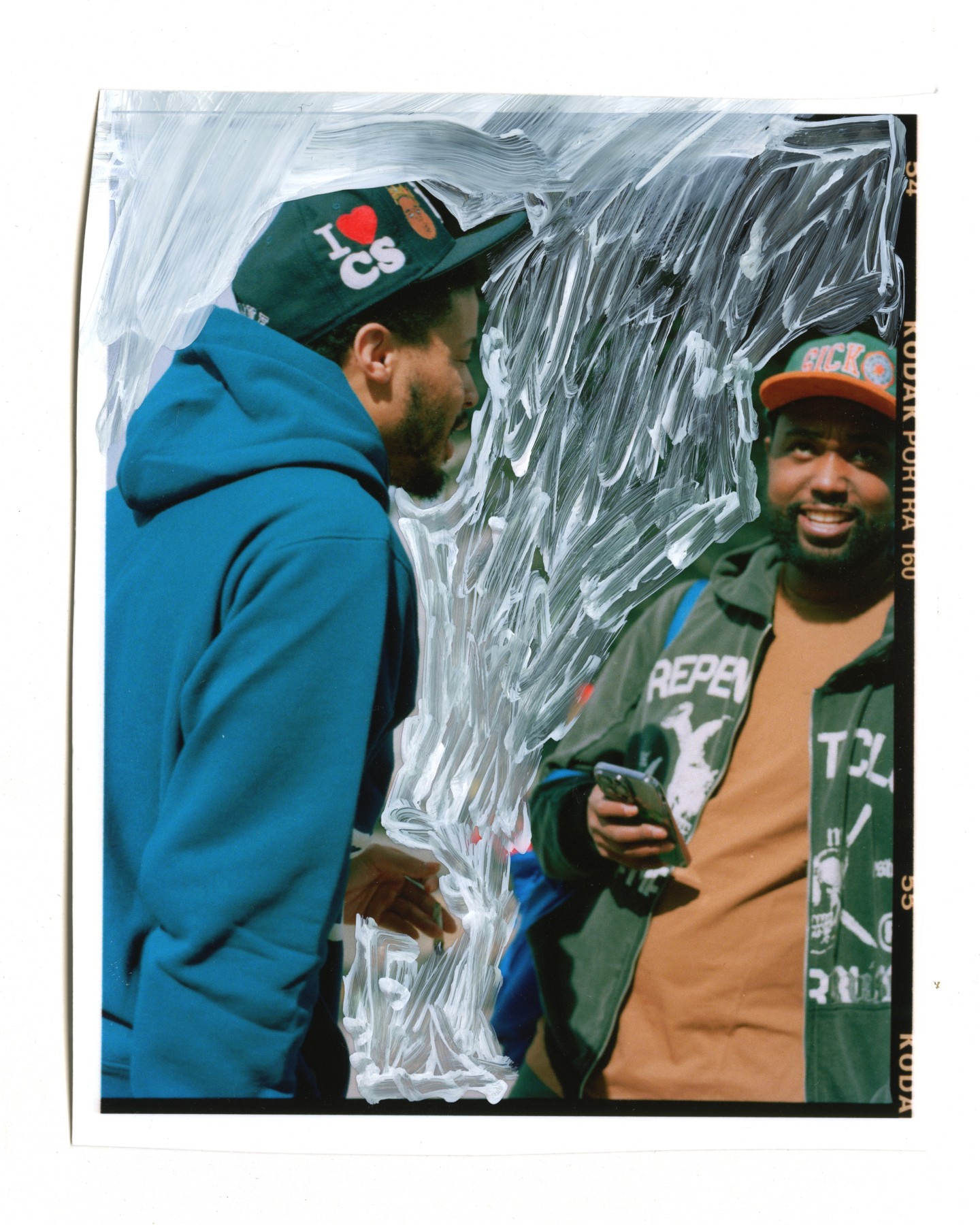 Shortly after, we stop at American Deli, where Jimmy runs into the first Veeze-related problem he can't solve: a special request for lemon pepper chicken tenders. After about a short back-and-forth at the register about how it'd mess up the fryer oil, he gives in. In his bag, a two-ounce plastic crown of lemon pepper seasoning rests on top of the takeout boxes.
Sometime in between our orders coming out and the 30-some-odd minute ride to Veeze's house, I get a text from a friend saying that the album announcement went live on Instagram. I show it to Jimmy, and he gives an I told you so nod of approval before going back to navigating the winding roads of the Atlanta suburb.
When we walk into the house, Veeze is tucked in the corner of a couch, half-paying attention to Stephen A. Smith's ramblings on Cam'ron and Mase's new YouTube sports talk show It Is What It Is. Ignoring the chicken tenders, Veeze has opted for three turkey burgers; after Jimmy eats one, Veeze says that he wanted all the burgers for himself. If I hadn't checked my phone before walking in, it would've never occurred to me that Veeze had dropped some of the year's most exciting rap news. Wrapped up in a blanket with his small afro still matted, it seemed as if Veeze was getting around to catching up on the day's news himself, but the gap-toothed grin he paced around with said everything you needed to know.
"Everybody just rapping to get out their contract. Just seem like it's all about money"
Even if Ganger hadn't dropped in 2023, it'd still be safe to call it a career year for Veeze. In March, he released "GOMD," a sauntering victory lap produced by longtime collaborator Tye Beats that's become his biggest individual song since "Law N Order." Veeze had planned to follow it with a remix starring Lil Uzi Vert, but a leak in mid-May blindsided him, and he rushed to release it the same day.
A few months earlier, Veeze was on a 25-date United States tour with Babyface Ray and Queens drill rapper Shawny Binladen that zigzagged across the country. In late April, I spent a day and a half with the touring entourage — Babyface Ray, Veeze, Jimmy, Talibando, as well as Veeze's tour DJ (and producer) BassKidsOnTheBeat, videographer KardiakFilms, and a whole cast of others — in Charlotte and on the road to Nashville.
As it's been endlessly journaled about, touring is a nocturnal activity where one's patience for showering in strange places and eating copious amounts of chicken wings is tested. For them, it's no different — imagine summer camp with a better soundtrack. Late-night UberEats runs, bets on games of NBA 2K and Madden lead to doubling down on subsequent games, even more bets on the ongoing NBA playoffs, and local clothing designers trying to seed their brands stop by the bus with handfuls of merch. On the way to Nashville, vexed by the amount of gear he's collected, Ray tosses me a brown varsity jacket still wrapped in plastic and says to keep it (I forgot it on the bus).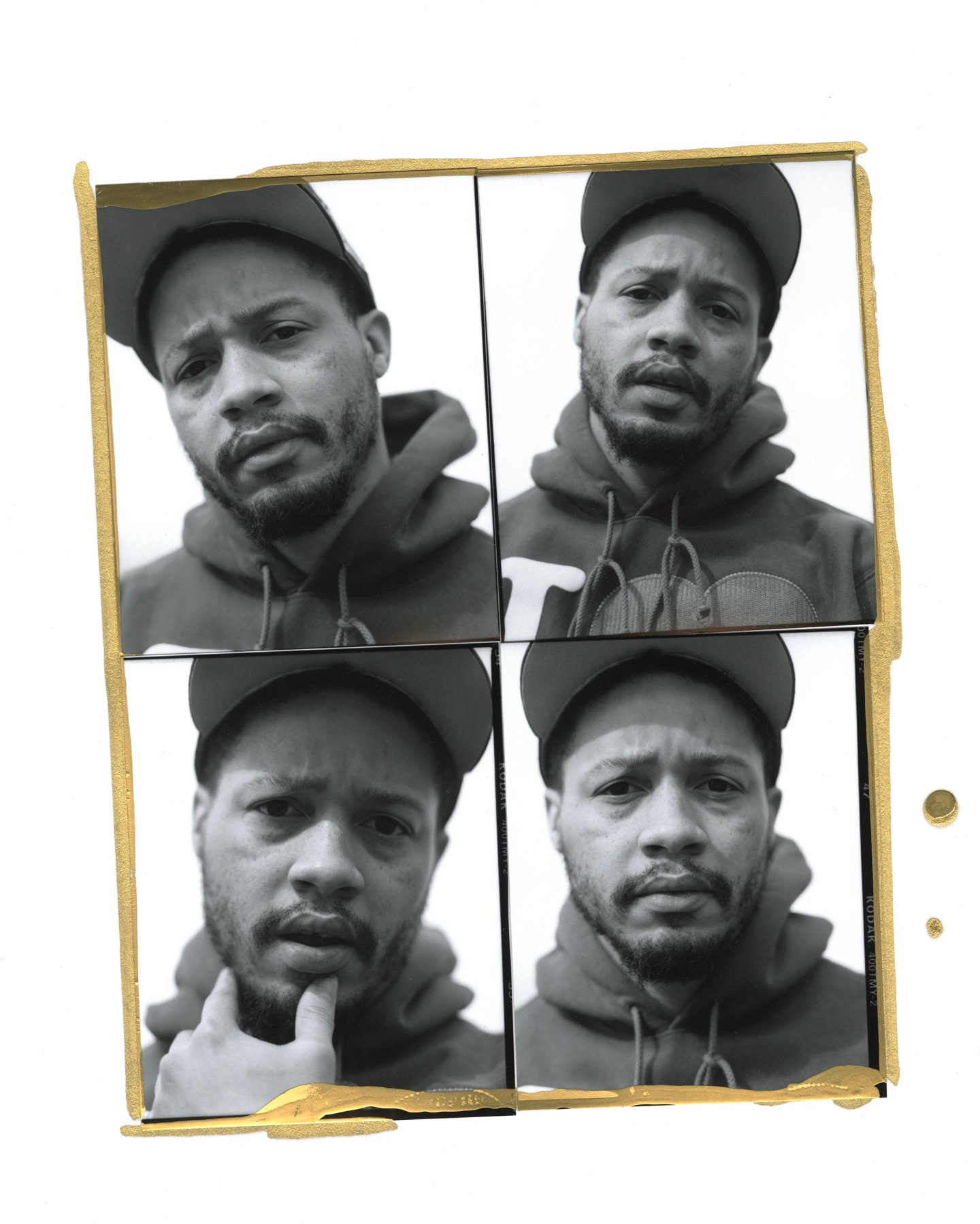 The afternoon they arrived in Charlotte, I thought I'd be in for a full day of interviews until Jimmy broke the news to me: everyone was knocked out on the bus after playing a show in Atlanta the night before, plus an afterparty. The only people awake were Jimmy and Diego, Babyface Ray's manager, who was helping unload stage equipment. After about an hour, a pop-up art gallery featuring gold-plated guns and portraits of Babyface Ray's album covers was constructed on stage. Stacked in a corner by the merch table was a pyramid of Gerski Grahams, the cereal that Veeze was selling. Online, a box will run you $49.99.
By 6:30, everyone's awake and showered, and there's already a line starting to form outside the Underground. Playing right next door at the Fillmore was Al Jourgensen's band Ministry, causing slight confusion as the lines intersected. However, there was a pretty easy tell to know you were headed in the right direction: follow the waxed leather fits for the pioneering industrial group, designer denim for the lifestyle raps.
When he's given the signal that it's performance time, Veeze hops off the bus in one swift movement, making a prize fighter's entrance with film cameras and GoPros covering him at all angles on his way to the stage. The overheads were dimmed out during his entrance, but for a second, the sheer amount of cell phone flashlights made it feel like fluorescents had somehow flipped on. Rounded out by his features on songs with Talibando and Pooh Shiesty, Veeze's setlist mapped an arc within his brief discography where regional hits were placed on the same level as features on major label albums. There's a surreal feeling to witnessing an artist like Veeze, whose buzz in online circles could potentially eclipse the music, translate their hype to real life.
"I knew he was going to be big, but I wanted to see the steps. He took the right steps to get bigger than Detroit," Jimmy told me in May. But even as an early believer, he still had to take a step back to acknowledge what he was filming every night. "Seeing it from the inside looking out, it's like, 'Damn, I guess working hard every day do pay off.'"
What I saw in Charlotte, I watched happen again in Nashville. Then again and again and again through Instagram stories until the tour concluded with a hometown show Veeze describes as "unreal" before quickly dampening his excitement, saying "it wasn't really a surprise."
"Even before I was rapping, the city been fucking with Ray," he shrugs. "But ever since we started our conglomerate. It's been different. It all just came out of nowhere. Nobody wanted Kobe and Shaq on teams together from the beginning of their career. It just happened."
On the way to Veeze's house that day, Jimmy explained how he moved to Atlanta in 2012 from Detroit and learned the ropes of the music business doing street promotion for Hot 107.9 and hosting artist showcases on the side. He attempted to push artists from home like Doughboyz Cashout and Team Eastside onto the radio station's mixshow hosts but was repeatedly turned down, with all the reasons boiling down to the music not being commercial enough.
Jimmy admits that even though he believed in the music, they may have made some points, reflecting on the raw mixing and mastering (or lack thereof) of the songs. The past two decades of the Motor City's street rap scene has lived in a regional bubble. Groups like the Eastside Chedda Boyz and the Street Lord'z were massively popular in the city during the early 2000s, but their heavy and soulful piano-driven music struggled to reach ears outside the Midwest. In 2013, Doughboyz Cashout signed to Jeezy's CTE label, signaling a chance for a national breakthrough, but their partnership fizzled out without much to show.
That was 10 years ago — an awkward pre-streaming era where top-to-bottom dictations of what was hot were becoming meaningless as Chicago drill rose to prominence on YouTube and Atlanta's mixtape circuit pumped out new stars at will. Today, we're witnesses to a regional rap renaissance where stars are made by listeners, not labels. Songs like Tee Grizzley's "First Day Out" and Sada Baby's "Bloxk Party" showed signs of that regional bubble starting to pop.
Fast forward a few years, and the situation's changed even more. For decades, the Bay Area has been a regional ally of Detroit, and the current wave of Detroit music has found a new audience in the South, especially among a rising crop of Florida rappers like Luh Tyler and Wizz Havinn. Earlier this year, Peezy's groovy hit "2 Million Up" landed on a few Billboard charts. All of this doesn't even doesn't take into account the influence that their neighbors in Flint have had on production and cadences all across the country. You can hear a little bit of Michigan rap in everything.
Before rap, Veeze had dreams of being an NBA guard. Today, sports references are all over his freewheeling rants that crescendo with excitement as he approaches the crux of his arguments, and the motivational, lesson-teaching personal anecdotes he tells that sound like something you'd hear while down 17 at halftime. If he weren't rapping, Veeze could make a killing as an AAU coach. He thinks that 50 Cent filled in a gap in hip-hop left by Tupac's passing ("The music business did not know what to do in those years between Biggie [and] Pac dying and 50 Cent's debut") and believes that unfavorable contracts are partially to blame for music being so "watered down" ("Everybody just rapping to get out their contract. Just seem like it's all about money"). He's not too big on social media either, insisting that the internet has turned people into "bots" that "have no soul," theorizing that we haven't seen the worst side effects of it yet; he estimates they will arrive around 2033.
As if on cue, when I ask Veeze about the moment he felt that he was good at rapping, he pulls out a sports metaphor to outline one of his theories about rap, smoothly dodging the original question in the process. Similar to how basketball players have go-to dribble combos and hot spots to score from, he believes that rappers have similar comfort zones — flows, production styles, topics — that provide dependable results.
"You already cool. You already been working on your technique. You got your spots that you go to that you always make from. I still got room, I still want to improve," he says in-between lighter flicks. "But I know I'm nice."
"I still got room, I still want to improve. But I know I'm nice."
Veeze would be the first to admit that he's a student of the game. He speaks of his favorite rappers — Biggie and Tupac, Jay Z, Lil Wayne — with deep reverence, recalling that as a child, there was a time when he didn't even know that Pac had died. Over the last couple of years, he's become friends with stars like Lil Baby, Chief Keef, and Lil Yachty, who he's gotten the chance to observe and learn from as he readied himself for the next steps of his career. "I put my mind at the level of what they gotta go through, instead of waiting till I get to they level to go through it, I already set my mind like that," Veeze explains.
He's candid while speaking about an early offer to sign to Gucci Mane that he turned down because he had already made as much as they offered independently. "When you already got the money and you ain't thirsty, you can learn, because you're buying yourself some time," he says. "If you learn after you sign, that's too late. [Rap's] a sport. It got rules in it. You can't not know the rules. You're not going to play if you don't know the rules. You ain't even going to make no roster."
During our conversation in Atlanta, there are several moments like this — where Veeze expounds on the lessons he's learned, his career philosophies, and industry theories with great detail — that reveal his obsession with rap and rap politics that make it strange that, for the most part, he's uninterested in talking about his music. Over the past year, he's been "making songs" for Ganger and "working out shit." He's drawn to "whatever beat comes to me" and says he records until a track "sounds good enough to be finished." His expectations for Ganger are delivered in a single sincere sentence: "I just hope they like it."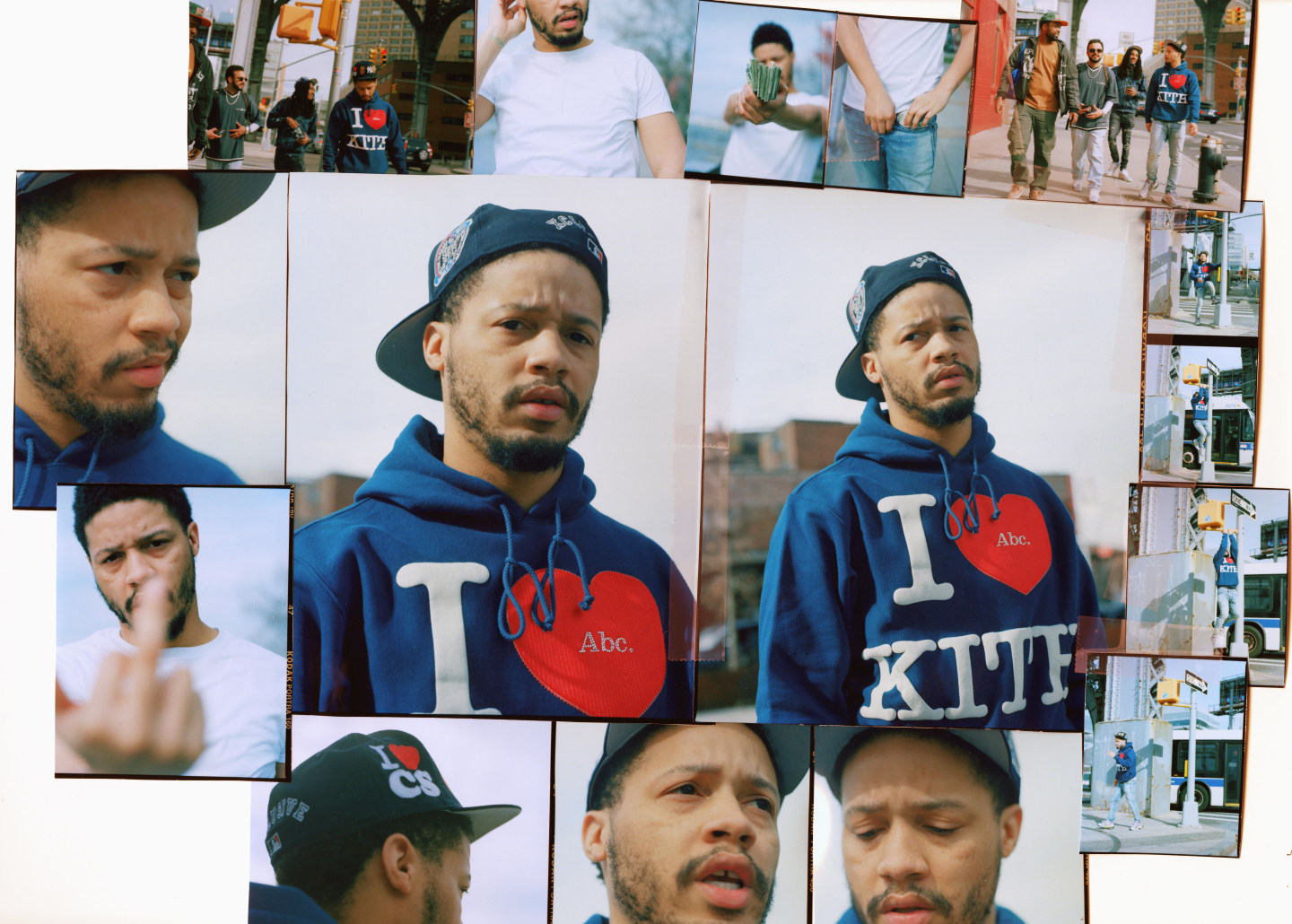 There's nothing else in rap right now that sounds like Ganger. The album paints a compelling portrait of what Veeze is about without dispelling the mysticism that's made him one of rap's most fascinating enigmas. It's sprawling, sure of itself, and unconcerned with any concept of thematic cohesion and linearity. If there is anything to follow, it's the smooth, hyper-specific details about his lifestyle that Veeze raps as if they're blasé. "I got this hoe on my naughty list, I still gotta buy her ass everything," he shrugs on "GAIG."
There's a lot to enjoy about Ganger, but mainly, it's the next steps you hope to see from an artist like Veeze — elevation without compromise. Emotional delivery has always been a key part of Veeze's skill set, but on Ganger, his groggy mutters and raspy voice get twisted up until they're able to sound lovesick and heartbroken at the same time. On "Boat Interlude," Veeze's vocals are pitched so low he starts to sound like Peezy. All over the album are luxurious, breezy instrumentals that could soundtrack a heist film's opening sequence, balanced out by nerve-wracking melodies fit for a vault cracking and explosive, rumbling beats for the impending getaway chase. There's also his idea of a joke to get back at the leakers he swears don't bother him: a song called "Unreleased Leak," its title designed to muddle search engines.
As for post-Ganger plans, Veeze has already started sketching out a few. After knocking out some overseas tour dates with Babyface Ray, he's plotting his own solo tour. He also intends to drop a second project this year titled So Much Fun 2, a homage to Young Thug, one of his favorite rappers.
The following day, I return to Veeze's house with Jimmy, where the emerging Atlanta rapper Lil Dann is slumped over on the couch watching a roundtable interview with Chris Paul. They spend most of the day watching sports talk interviews and watching random episodes of Black Mirror. Veeze, a noted technology skeptic, reveals he had binged most of the new season the night before, joking about getting so scared he had to bring a gun downstairs. To instill some of that fear in the rest of us during this impromptu watch party, he adopts the role of a modern-day Rod Serling, playing up the suspenseful moments and dropping misleading hints that made bland episodes a bit more watchable.
After four episodes of that, Veeze gets tired of watching TV and suddenly disappears upstairs. Popping back downstairs for a second, it turns out he's been in his home studio where he's about to go record. Illuminated by just color-changing LEDs, he sits down at a desk and clicks through about a dozen emails, barely getting five seconds into any one beat before skipping. Eventually, he lands on a chilling instrumental from DDotFreezing. Pausing for a moment after it's loaded up, he looks into a corner and scrunches his face to think before rapidly punching in a bar, mumbling about three more lines after. Revisiting the freestyled mumbles, he slowly fills them in with words, sculpting a sentence out of mud from the ground up.
Punching in lines makes for a hypnotic recording process that's as tedious and repetitive as it is stimulating and creatively rewarding. Every line is followed with audible thumbs up ("Keep that") or thumbs down ("Onemoretime," "Onemo") from Veeze. For the next two hours, Veeze and his engineer McFly played audio Tetris, restructuring, re-recording, deleting, and rearranging lines until it sounded how he imagined. Rarely are you able to see the gears turning in someone's head so clearly.
When Veeze decides he's finished with it, they play through the song a couple of times, scanning for bars that need to be re-recorded for the fourth or seventh time. Veeze decides to redo some, changing around emphasis and adding a venomous sneer to his delivery: "10,000 for my presence, Imma get that not even rapping," he frustratedly spits. They play through it again. Satisfied with the results, Veeze pulls off his headphones and calls it a night. Sensing the low energy levels in the room, Jimmy offers to take me back to the hotel. We don't even make it into the city before Veeze is back on Twitter asking for beats.