This post was originally published on this site

(L) Paramore. Photo by Ralph PH/Flickr (R) Taylor Swift. Photo by SUZANNE CORDEIRO/AFP via Getty Images.
Paramore is joining Taylor Swift for all dates of the European leg of the Eras Tour. The legendary pop punk band will finish their own world headline tour before serving as direct support for the global superstar next May.
Kicking off on May 9 of next year, Taylor Swift's 2024 Eras tour will begin with four nights in Paris' La Défense Arena. Swift and Paramore will then pass through Sweden, Portugal, Spain, Ireland, the Netherlands, Switzerland, Italy, Germany, Poland, Austria, and various parts of the United Kingdom before the 48-date run ends with three mid-August shows at London's Wembley Stadium. Tickets can be purchased on Paramore's official website.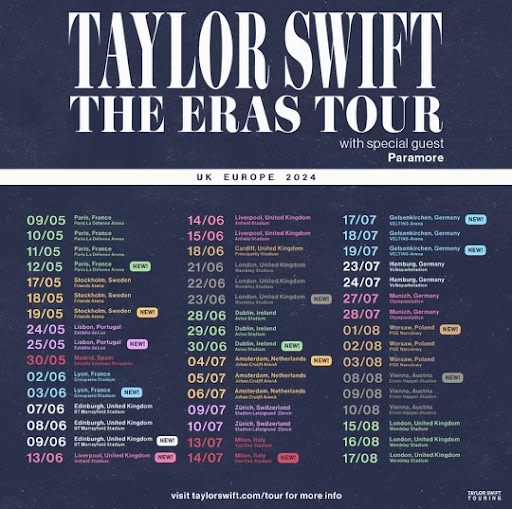 Paramore 2024 European tour dates

May 9 – Nanterre, FR – Paris La Défense Arena
May 10 – Nanterre, FR – Paris La Défense Arena
May 11 – Nanterre, FR – Paris La Défense Arena
May 12 – Nanterre, FR – Paris La Défense Arena
May 17 – Stockholm, SE – Friends Arena
May 18 – Stockholm, SE – Friends Arena
May 19 – Stockholm, SE – Friends Arena
May 24 – Lisbon, PT – Estádio do Sport Lisboa e Benfica
May 25 – Lisbon, PT – Estádio do Sport Lisboa e Benfica
May 30 – Madrid, ES – Estadio Santiago Bernabéu
Jun 2 – Lyon, FR – Groupama Stadium
Jun 3 – Lyon, FR – Groupama Stadium
Jun 7 – Edinburgh, UK – BT Murrayfield Stadium
Jun 8 – Edinburgh, UK – BT Murrayfield Stadium
Jun 9 – Edinburgh, UK – BT Murrayfield Stadium
Jun 13 – Liverpool, UK – Anfield
Jun 14 – Liverpool, UK – Anfield
Jun 15 – Liverpool, UK – Anfield
Jun 18 – Cardiff, UK – Principality Stadium
Jun 21 – London, UK – Wembley Stadium
Jun 22 – London, UK – Wembley Stadium
Jun 23 – London, UK – Wembley Stadium
Jun 28 – Dublin, IE – Aviva Stadium
Jun 29 – Dublin, IE – Aviva Stadium
Jun 30 – Dublin, IE – Aviva Stadium
Jul 4 – Amsterdam, NL – Johan Cruijff Arena
Jul 5 – Amsterdam, NL – Johan Cruijff Arena
Jul 6 – Amsterdam, NL – Johan Cruijff Arena
Jul 9 – Zurich, CH – Letzigrund
Jul 10 – Zurich, CH – Letzigrund
Jul 13 – Milan, IT – Stadio Giuseppe Meazza
Jul 14 – Milan, IT – Stadio Giuseppe Meazza
Jul 17 – Gelsenkirchen, DE – Veltins-Arena
Jul 18 – Gelsenkirchen, DE – Veltins-Arena
Jul 19 – Gelsenkirchen, DE – Veltins-Arena
Jul 23 – Hamburg, DE – Volksparkstadion
Jul 24 – Hamburg, DE – Volksparkstadion
Jul 27 – Munich, DE – Olympiastadion
Jul 28 – Munich, DE – Olympiastadion
Aug 1 – Warsaw, PL – PGE Narodowy
Aug 2 – Warsaw, PL – PGE Narodowy
Aug 3 – Warsaw, PL – PGE Narodowy
Aug 8 – Vienna, AT – Ernst-Happel-Stadion
Aug 9 – Vienna, AT – Ernst-Happel-Stadion
Aug 10 – Vienna, AT – Ernst-Happel-Stadion
Aug 15 – London, UK – Wembley Stadium
Aug 16 – London, UK – Wembley Stadium
Aug 17 – London, UK – Wembley Stadium