This post was originally published on this site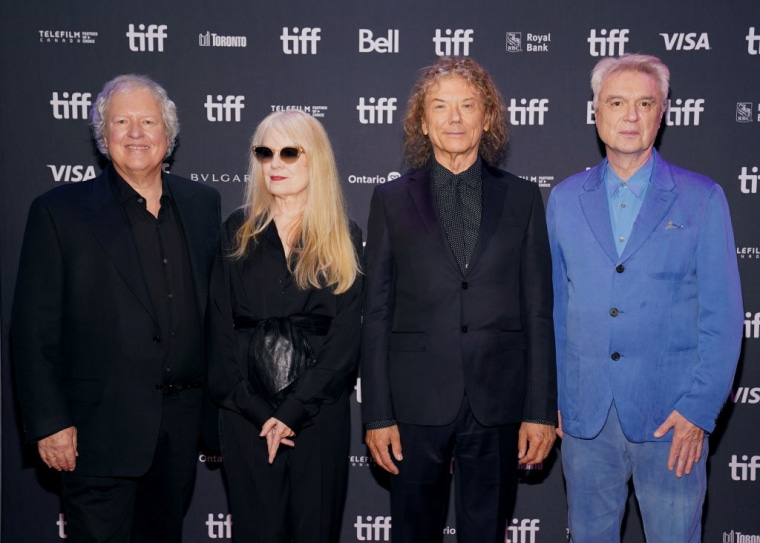 (L-R) Chris Frantz, Tina Weymouth, Jerry Harrison and David Byrne attend the Stop Making Sense premiere during the 2023 Toronto International Film Festival at Scotiabank Theatre on September 11, 2023 in Toronto, Ontario.

Photo by Shawn Goldberg/Getty Images
Talking Heads reunited for a Q&A at the Toronto International Film Festival on Monday night (September 11). The band, frontman David Byrne, bassist Tina Weymouth, drummer Chris Frantz, and guitarist Jerry Harrison, were making their first joint public appearance since they were inducted into the Rock & Roll Hall of Fame in 2002. The foursome reunited to take part in a Q+A at the premiere of A24's 4K restoration of their concert film Stop Making Sense.
The band members spoke to moderator Spike Lee for a 25-minute interview held after the screening of the movie, which was first released in 1984. Lee, who worked with Byrne on the filmed version of his solo show American Utopia in 2020, did his bit to celebrate Stop Making Sense, describing it as "the greatest concert film ever."
The band also spoke about the impact of the late Jonathan Demme's film, with Harrison saying that "one of the reasons for the lasting power of the film is you see that we are having so much fun onstage. Tthe audience is brought right into it. We say, you're part of this too. And I think that every time anybody watches it, it brings back that wonderful emotion."
Talk, naturally, turned at one point to the oversized suit Byrne wore during the original performance. "It was really big tonight," Frantz joked in reference to the IMAX screen on which the film was screened at TIFF.
Byrne later explained the backstory of the suit, saying: "The origin of that was… we were in between tours, and I was thinking, 'What are we gonna do next? Maybe I should rethink what we wear onstage'," he said. "I was having dinner in Japan after we finished the tour, and this designer there said, 'Well, David. In the theatre, everything is bigger than [in] real life'. He's referring to like gestures… you sing louder and all that." He added: "I'm thinking, 'Oh, my suit should be bigger too."
A24 secured the rights to Stop Making Sense earlier this year. The updated version of the film will have a full theatrical release on September 22.