This post was originally published on this site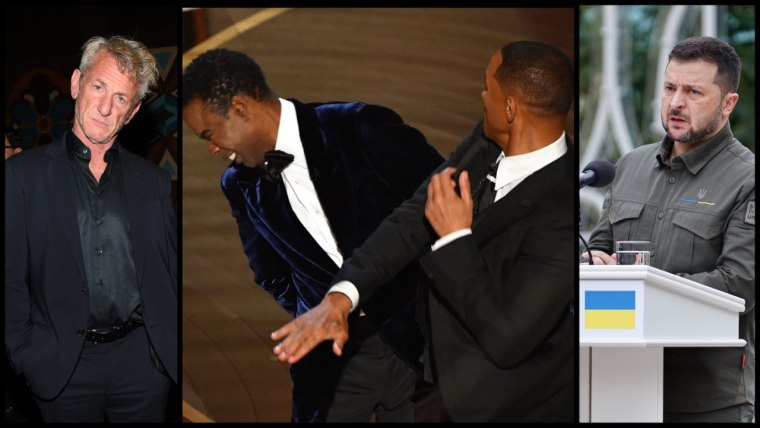 Left: Sean Penn, photo by Sonia Recchia/Getty Images for World Class Canada.
Middle: Will Smith (R) slaps Chris Rock at the 2022 Oscars, photo by Photo by Robyn Beck/AFP via Getty Images.
Right: Ukrainian President Volodymyr Zelenskyy, photo by Yan Dobronosov/Global Images Ukraine via Getty Images.

Acclaimed Hollywood actor and Volodymyr Zelenskyy documentarian Sean Penn has voiced expressed his anger at the Oscars and Will Smith in a new interview with Variety. Central to his complaint is the convoluted claim that, had the Academy of Motion Picture Arts and Sciences allowed the Ukrainian president to speak at the 2022 Oscars, Smith would not have had the gall to slap Chris Rock in front of a packed Dolby Theatre audience and millions of TV viewers.
"The Oscars producer thought: 'Oh, [Zelenskyy is] not light-hearted enough,'" Penn hypothesized. "Well, guess what you got instead? Will Smith!" The Academy reportedly turned down Zelenskyy's request to speak at the Oscars for a second time before the 2023 ceremony.
"I don't know Will Smith," Penn added later in the interview. "I met him once. He seemed very nice when I met him … So why the fuck did you just spit on yourself and everybody else with this stupid fucking thing? Why did I go to fucking jail for what you just did? And you're still sitting there? Why are you guys standing and applauding his worst moment as a person?" (Here, Penn seems to be referring to his stint in jail in 1987 following a fight on the set of Colors in which he "pummelled movie extra Jeffrey Klein," who had been taking photos of him and his co-star, Robert Duvall, according to a Los Angeles Times report. The incident reportedly involved spitting by both parties.)
"This fucking bullshit wouldn't have happened with Zelenskyy," he continued. "Will Smith would never have left that chair to be part of stupid violence. It never would have happened."
Having announced his intention to melt one of his five Best Actor Oscars down in public if Zelenskyy was not allowed to speak at the 2022 ceremony, Penn instead loaned the statuette to him last November, telling him, "When you win [the war against Russia], bring it back to Malibu."